For most busy women nowadays, their period is usually the last thing on their mind. And tracking their period is even further from that!
But if you're a woman who wants to keep track of your period flow, ovulation, cervical fluid + position, along with the myriad emotional symptoms that accompany a menstrual cycle, then get excited because there's an app for that. In fact, there are many apps! Welcome to period tracking in the 21st century!
Over the last two years I've experimented with a ton of the most popular period tracking apps on the market. There is a possibility that I've tried every period-tracking app in existence! Hee hee!  Today's post is a breakdown  of my faves based on practical features, user-friendliness and cute graphic design. Come on, you know I had to throw that one in there! 🙂
Like I said, I've tried a bunch, although there are many more out there that you might ultimately prefer. In this post I review Kindara, Clue, Glow, Daysy, Natural Cycles, Ava Fertility Tracker, and Period Tracker Deluxe.
My Favorite Period Tracking Apps
#1. Kindara 
I discovered Kindara last year while reading a NY Times article on crowd-funding of all things. The Kindara peeps  have done an impressive job of raising capital and in my opinion, they've got the best fertility/period tracking app. Plus, the founder Katherine Bicknell is on a mission to help women learn as much as they can about their menstrual cycles. How can you not be on board with that?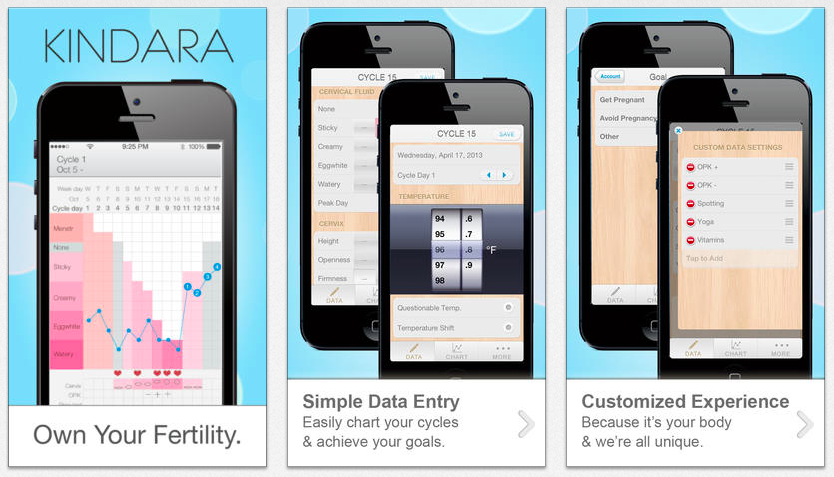 I love Kindara for a number of reasons:
It's interface is clean (no clutter here!), easy to understand and versatile. Just plain no-nonsense!
It is the only app in which you can chart your basal temperature shift, thus eliminating the need for paper charts – best fertility chart in an app I've seen to date!
They update their app often and consistently listen to feedback from their customers
They provide awesome customer support – just send an email and you'll get a response within a couple hours
It even sends you a reminder to check your cervical fluid at a designated time of your choosing
Kindara also has an accompanying thermometer called Wink. It takes your temp at record speeds and send its to the app via bluetooth, so no more trying to remember your temp. You can read more about it here.
#2. Daysy Fertility Monitor and App
In a nutshell, the Daysy (and it's accompanying app) is a fertility monitor that will tell you whether you are fertile or not via red or green lights on the device. The yellow days are for when the device is getting to know your cycle. It's 99.3% accurate at predicting your fertile days—based on annual testing as a certified medical device—but because of FDA rules, we don't say "effectiveness as birth control." It's helpful in planning or preventing pregnancy, because the readings it will give (green, red, yellow) are 99.3% accurate.
I wrote an entire "ode to Daysy" post, which you can check out for all the information you'll need if you are interested in buying one. I really LOVE my Daysy and use it in conjunction with my Wink/Kindara combo – which you don't have to do! I just like collecting data on my cycle 🙂
And I've got a special discount for any of you babes who want to get your hands on a Daysy. Click here to purchase your very own Daysy and you'll get an automatic $20 off!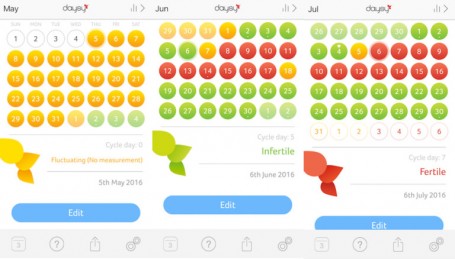 #3. Ava Fertility & Cycle Tracker and App
I started using Ava about 6 weeks ago and I'm hooked! It's a device you wear on your wrist while sleeping, along with an app that it connects to via bluetooth. It's kind of like a fitbit for your cycle, in that it measures a variety of parameters to determine when you are fertile. It's traditionally been used for pregnancy achievement, because it predicts an average of 5 fertile days, and is not considered a contraceptive device. However, it tells you so much about your health and your cycle (which is what I love). I get to see my basal temperature, my sleep patterns, breathing rate, resting pulse rate, and heart rate variability. The temperature, resting pulse rate and breathing rate change from the follicular phase to the luteal phase, so it's awesome to see the shifts. I really can't recommend this device enough if you are trying to get pregnant, or if you are interested in thoroughly learning about your cycle.  You can read my full review of Ava here.
You can get your hands on one right here. And be sure to grab my special $20 discount by using discount code hcajardim at checkout!

#4. Clue
You won't find any pink or girlie graphics in this modern app. It's literally a work of art and I often catch myself staring at it for longer than necessary. LOL! According to their website, Clue "uses an algorithm to calculate and predict your own unique cycle, and the more you use it, the more accurate it is. Pretty sweet! Unfortunately it lacks the option to chart your basal temperature but as a period tracking app, I give it a thumbs up! Cost: Free and available on iOS.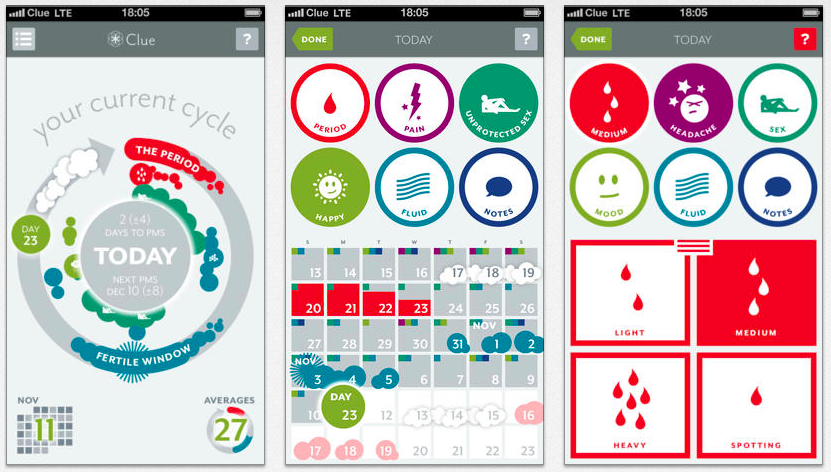 #5. Glow 
I have used Glow for a few years, and one of my favorite features is that it tells you the chance of getting pregnant on any given day in your cycle. As in, on day 12 (which is really close to ovulation for me), it will tell me I have a 21% chance of getting pregnant. Like Clue, you won't find any pink on this app either. It's super easy to navigate and has tons of features for women who are trying to conceive. Plus, it tracks men's health and fertility, so a woman can invite her partner to the app and they both benefit. It can also be used if you're not trying to have a baby too.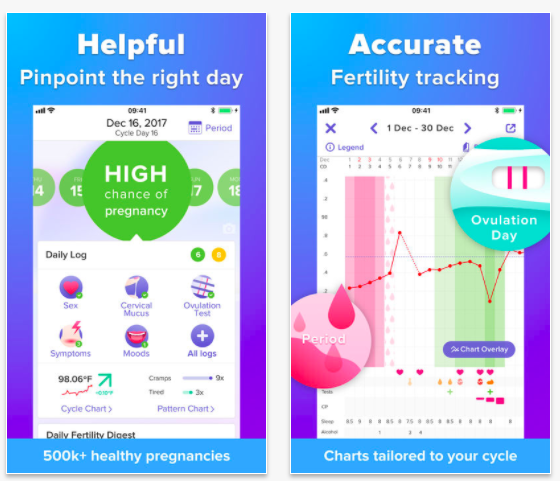 #6. Natural Cycles
The Natural Cycles app claims to be the only certified contraceptive app, and they state on their website that their app is 93% effective (meaning that 7 out of 100 women will get pregnant in a year). You take your basal temperature each morning, input it into the app, and you'll get red or green days to indicate your fertility. Similarly to the Daysy, you'd use protection if you have sex during red days. You can purchase the Natural Cycles basal thermometer or use another basal thermometer. This is a paid app – the subscription costs $79.99/year or $9.99 a month, and the thermometer is $28.90. I have only used the free version and I really liked the clean, simple interface. I found it really easy to use, and a few friends and clients have agreed.
#7. Period Tracker Deluxe
This app is very similar to iPeriod in layout and design but it's a little cuter and more girly. In fact, I'd say it's the anime version of period tracking complete with a tree that blooms during fertile days along with cupcakes for bloating and smiling pink drops for spotting! I really like the fact that this app averages your last 3 cycles to predict the start of your next cycle. Lots of points for ease of use and maximum data collection options. Cost: $1.99 and available on iOS and Android.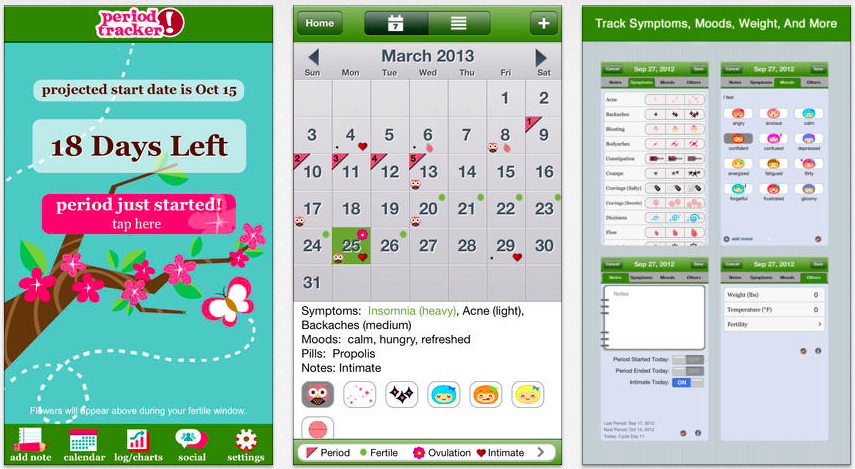 Final thoughts
The most powerful aspect of all these apps is the incredible amount of data collection. Women now have the power to collect and analyze data on all areas of their menstrual health, and use it to understand their unique bodies and tackle health issues like infertility and cervical abnormalities. For instance, if you're tracking your cervical fluid patterns every month for years on end, you're gonna know what's normal for you. This means you're far more likely to notice any changes that occur long before someone who is not familiar with their menstrual function.
You will hear me say this again and again – you need to arm yourself with information so that you can become THE expert on your own body because no one else on the planet will care more about your health than you.
xoxo,
Nicole