I was in Rite Aid the other day making my way over to the Epsom salts, when I found myself wandering down the feminine care aisle. I often end up in this section because of my curiosity about what's new in the world of Always and Kotex. Apparently, I just can't help myself. 🙂
What struck me this time around was the sheer number of feminine care wipes on the shelf – I counted nine of them! I remember the days when Summer's Eve (so 90's!) was the only brand on the market, but now Playtex, Always, Vagisil and even the drugstore brands have gotten in on the "my vagina should smell like flowers" game.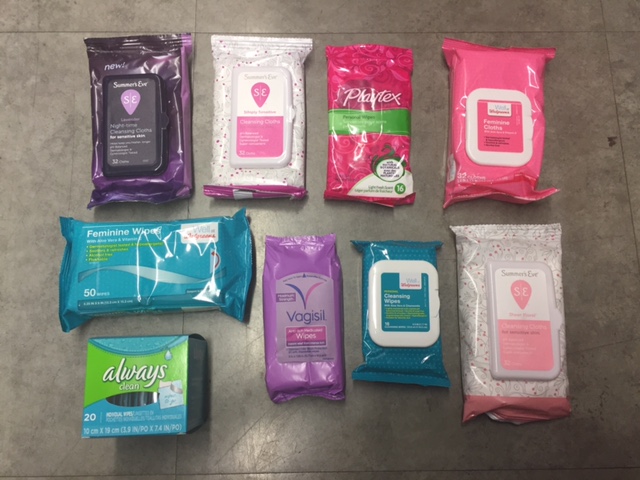 Obviously I'm not only talking about wipes here – douches (awful by the way), feminine washes, feminine deodorants like sprays and powders, and anti-itch creams are all contenders for the worst thing you could ever do to your vagina.
Ladies, you should NOT be using these feminine care products. Here's why:
Feminine wipes are full of horrible ingredients.

These include synthetic chemicals and heavy fragrances (sometimes made up of 100's of ingredients), preservatives like parabens and dioxin, which are all linked to hormonal disruption, cancer and infertility. In addition, wipes and sprays are regulated as personal care products, which means companies don't have to disclose all the harmful ingredients, putting the health of MILLIONS of women at serious risk.

This is not okay. A report called "Chem Fatale", done by Women's Voices for the Earth describes these potential hazards associated with feminine wipes: "Hazardous ingredients may include Methylchloroisothiazolinone, Methylisothiazolinone, parabens, quaternium-15, DMDM Hydantoin and unknown fragrance chemicals. Exposure concerns include cancer and endocrine disruption. Studies link wipe use to allergic rash."

Here are some of the ingredients you should look out for in feminine wipes and in a number of other products like pads, tampons, washes, douches and deodorants.

This is what's in the regular Summer's Eve wipes and to the right is the "sensitive skin" Summer's Eve wipes. Not seeing a huge difference in ingredients I can't pronounce – as in, the ingredients are totally identical. Unreal.

         

Your vaginal tissue is the most sensitive tissue on your entire body.

And using these products sets you up for irritation, dryness and infections. This is because harsh chemicals disrupt the vagina's natural lubrication and remove healthy bacteria, setting the stage for infections and chronic irritation. I hear from women all the time who got UTI's, yeast and bacterial infections after just one use!

Here are some other side effects from women I've spoken to (in their own words): Terrible rash that lasts for days, burning and itching, vaginal swelling, painful urination, stinging pain like someone had poured acid on my vagina…you get the point. There is no need for you to risk these crazy side effects.

Your vaginal tissue is exceptionally absorbent.

And in fact, there is a lot of interest in vaginal drug delivery systems because the vagina is sooo permeable. This is why you need to seriously consider what you put on this area. It's similar to slathering chemical-laden lotion all over your body, but 100 times worse!

Here's why: According to Chem Fatale, "one study found that a vaginally applied dose of estradiol (an estrogen proxy) resulted in systemic estradiol levels in the body 10 to 80 times greater compared to the same dose given orally. Similarly, vaginal exposure to hormone-mimicking chemicals that may be present in feminine care products may lead to higher than expected exposures in the rest of the body."

Putting these ingredients on your vagina over the long-term can lead to some serious health consequences for you, and your children.

These are a few of the worst toxins in vaginal wipes…

Phthalates – these are industrial chemicals that alter how the endocrine system functions. They have no business being anywhere near your vagina, but unfortunately you can find them in wipes and douches, or anything that has the word "fragrance" on it. These chemicals disrupt reproductive (estrogen, progesterone etc) and thyroid hormones. Phthalates should be a major concern for women of reproductive age because they appear to greatly impact the womb. In animal studies, phthalates have been linked to birth defects, and they also may contribute to abnormal development among children who are exposed in utero.
Parabens – Parabens are a huge concern because they have been shown to have estrogenic properties. Parabens have been detected in breast cancer tissue, and their presence may be connected to this disease. And get this, a 2013 study found that higher levels of parabens in a woman's urine is associated with ovarian aging, which leads to reduced fertility! This study wasn't totally conclusive, but why continue to be a guinea pig right?
Methylchloroisofthiazolinone and Methylisothiazolinone (MCI/MI) – these were named "Allergens of the Year" in 2013 by the American Contact Dermatitis Society. They both cause excessive itching that almost completely resolves once use of the offending wipe stops.
If you've been using vaginal wipes or any of the products I mentioned above (douchers I'm lookin' at you), then hopefully I've scared you straight! 🙂
These are the products I recommend…
I got your back girl, I know you aren't always feeling fabulous "down there" so here are a few of my fave wipes…
1. Rosebud Women – A luxury vaginal skincare company with impeccable plant-derived ingredients. Their products are formulated for daily and specialty use, to meet your specific concerns and desires.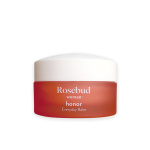 1. Healthy HooHoo Feminine Wipes (can't get enough of this name!) – created by my awesome friend Stacy, Healthy HooHoo is a line of all natural products that are completely free of any crap. Stacy has dedicated herself to creating the BEST feminine care products out there! Healthy HooHoo has wipes, a foaming cleanser and a gel cleanser.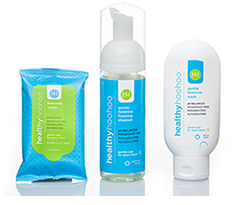 2. Natracare Intimate Wipes – I love that they share all of their ingredients and the actual source of those ingredients. They are 100% organic, biodegradable and don't have any of the harsh ingredients I mentioned earlier in this post.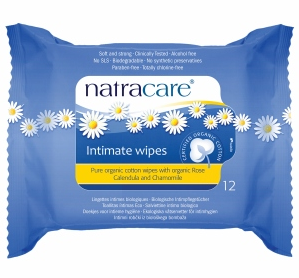 Love y'all!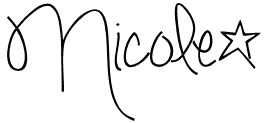 Sources:
http://www.huffingtonpost.com/maia-james/phthalates-health_b_2464248.html
http://www.womensvoices.org/wp-content/uploads/2013/11/Chem-Fatale-Report.pdf