There's nothing like sitting in the glass box at airport immigration, facing potential deportation and jail time, to make you appreciate the little things in life…
What an opening line right? While that didn't exactly happen to me, it did happen to a person I was with last week and the experience completely flipped our world upside down.
I should probably give you a little background huh? The quick and dirty summary: It all began a number of years ago when I re-connected with someone from my past. I'd known H since I was 18 and while we had a little "thing" going back then, we never pursued it. Instead I went away to university and we ended up both marrying other people. In the 10 years after I left, we saw each other maybe four times and each time I felt this undeniable connection but knew there was nothing either of us could do about it. I later found out he felt this way too. And time continued on…until 2010 when I saw him again and knew that something had to be said! Somehow, intuitively I felt this man was my soulmate. The rest is a very rocky history that I will have to share with you one day over strong alcoholic beverages 🙂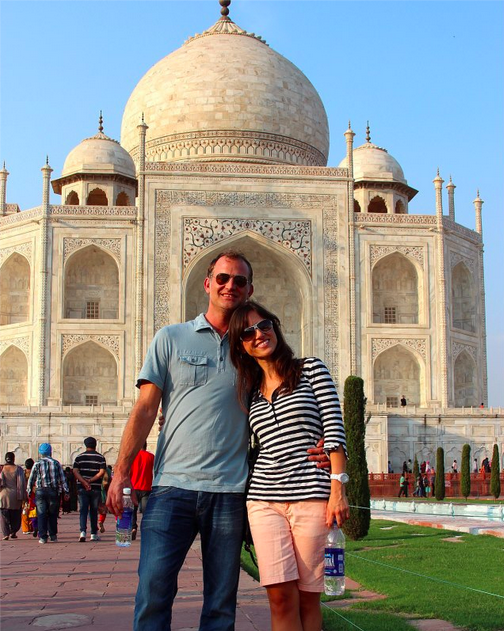 Fast forward to last October. After two years of trying to make "us" work, (we were doing this insane long distance thing, he's in Europe and I'm in New York), we decided to go our separate ways because the pressure of everything was just too much. The hardest decision of my life. We were broken up for 5 months and by the middle of March we were both still pretty miserable, and that's when we decided that we simply can't live without each another. So we gave it another shot. Forever this time. YAY!
Which brings me to last week Monday. We were meeting up for a week in Montreal – the N+H reunion! I am standing in the immigration line and my phone rings. I pick up and launch into my story about how the plane got totally delayed and I would be out soon.
And then I hear the worst words ever: "My name got flagged by immigration and I've been detained."
Fuck.
So I go through immigration and join him in the glass box. What a perfect reunion after many months of not seeing each other! (FYI: If you ever get stuck in an immigration situation, make sure it's in Canada. The Canadians are just so damn nice! LOL).
I know you're probably wondering WTF is going on here right? Well, without going into tons of detail, we'll just say that H can't come back here because of some really ridiculous legislation that was created to prevent Americans from owning online gaming companies outside of the US. Hence the long-distance relationship.
He tells me what's going down and says that the situation looks pretty dire. His lawyer is calling every hour to update him on who he's talked to at the department of justice but he is worried this will end badly. He says we just have to sit tight while the Canadians do their own investigating. So we sit and wait and wait…and as more time goes on we begin to think the worst. As in, H is going to be stripped of all his rights, extradited back to the US, held in a detention center, face a trial and then jail time. H would not do well in jail, so panic starts to set in.
He says, "Babe, if we get out of here, all I want is ribs and beer." And I say "You're gonna have your ribs and beer." I'm confident we'll get out of this mess but I'm still kinda shitting myself.
Then the immigration officer who's handling the case calls me to come have a chat with her. Uh oh. She asks me all sorts of questions and I tell her about what I do and how I help women fix their periods and get pregnant (secretly hoping this will help our cause!). I also casually mention that H is the most harmless criminal she'll ever encounter. She laughs. I sit back down and tell him we're so gonna get out of this because she loves me.
At 6pm, over six hours after arriving in Montreal, our lovely immigration officer calls us up. I feel like we're BFF's at this point. She apologizes for taking so long but she was waiting for the DOJ to send her a copy of H's indictment.  She and her superiors have reviewed the whole case and she is going to let him go today. Wha what?? We both practically fell over with shock and relief. I think I even screamed a little. She went on to say that the Americans wouldn't be too happy with their decision but H hadn't broken any Canadian laws so as far as she was concerned he was a free man.
A free man who got to eat ribs and beer that night – with a side of gratitude. 🙂
I don't usually share super personal stories but I really think there are some great lessons in what we went through last week.  We are all living on borrowed time, all the time, and sometimes it just takes dodging a huge bullet to realize this.  It is so important that we find a way to harness that feeling and be grateful for everything we have – always.
I even got a quote for this post from the man himself:
"We have a new lease on life and the rent is free!  How cool is that!  We also have a new lease on love which has also been negotiated at $0.00 per month!  I woke up this morning alive and in love and felt soooo grateful!  Alive and in love!  The two most powerful forces in the universe sit by my bedside each morning and welcome me to a new day.  How can I not feel like the luckiest man alive?!!?"
Now we want to know what makes you feel like the luckiest person alive?