A CLINICALLY PROVEN PROGRAM TO RESET AND REBALANCE YOUR HORMONES
LIMITED TIME OFFER
76% OFF!
ONE TIME ONLY PAYMENT FOR LIFETIME ACCESS BACKED BY OUR 28-DAY MONEY BACK GUARANTEE
PERIOD PROBLEMS GOT YOU DOWN?
I HEAR YOU GIRLFRIEND!
I know you're here because you're trying…
To eat right. Exercise. Be healthy. Figure out what's really going on with your hormones and cycle, while simultaneously trying to be a better woman/mother/daughter/partner/friend/person.
I know you're tired because there is so much you "should" be doing — for your mental, physical and hormonal health — but your schedule is already overflowing and your energy can only stretch so far.
I also know what you truly need (and want) is to…
Dedicate time to your health. Hit the reset button and start fresh. Kickstart a healthier lifestyle, plant the seeds of better habits, and reconnect with your body. Preferably with a dash of fun and the support of women who crave the same feelings of freedom and health that you do.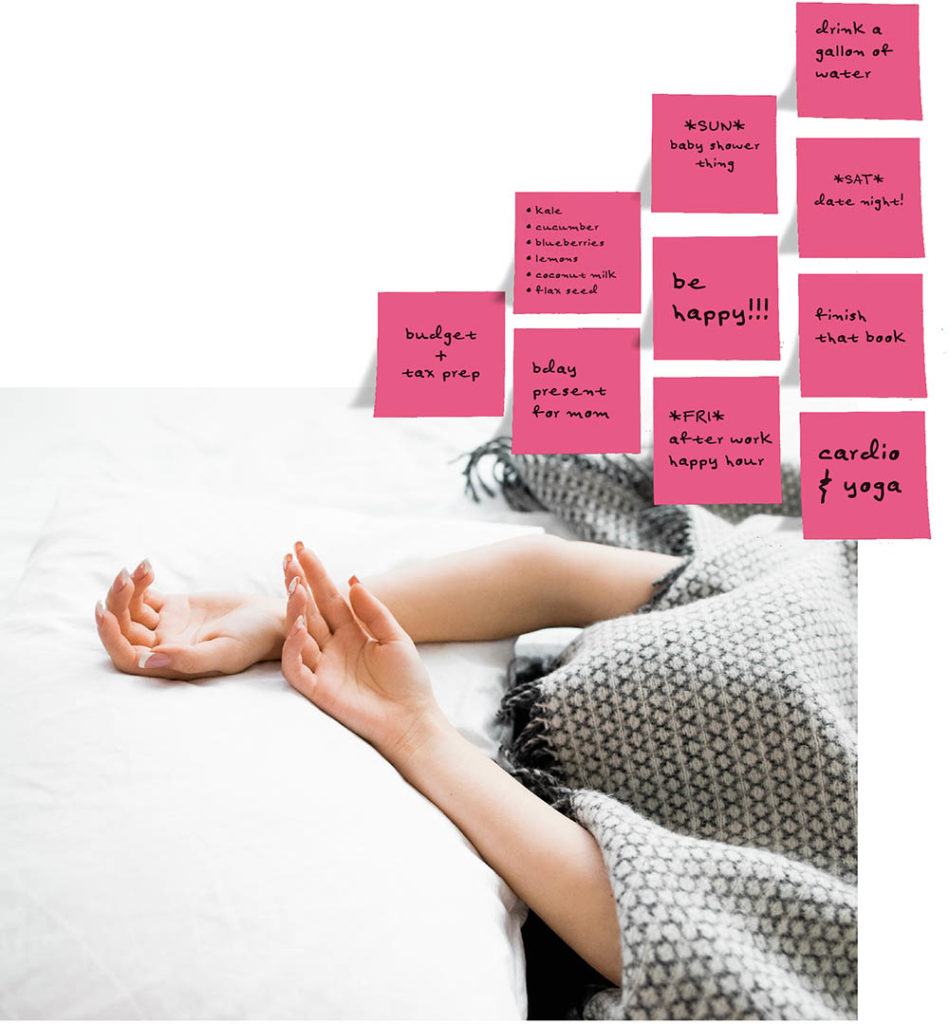 IT'S NOT TOO MUCH TO ASK FOR. I PROMISE!
Don't go it alone anymore with period problems that disrupt your life.
This program is right for you if you experience 2 or more of the following: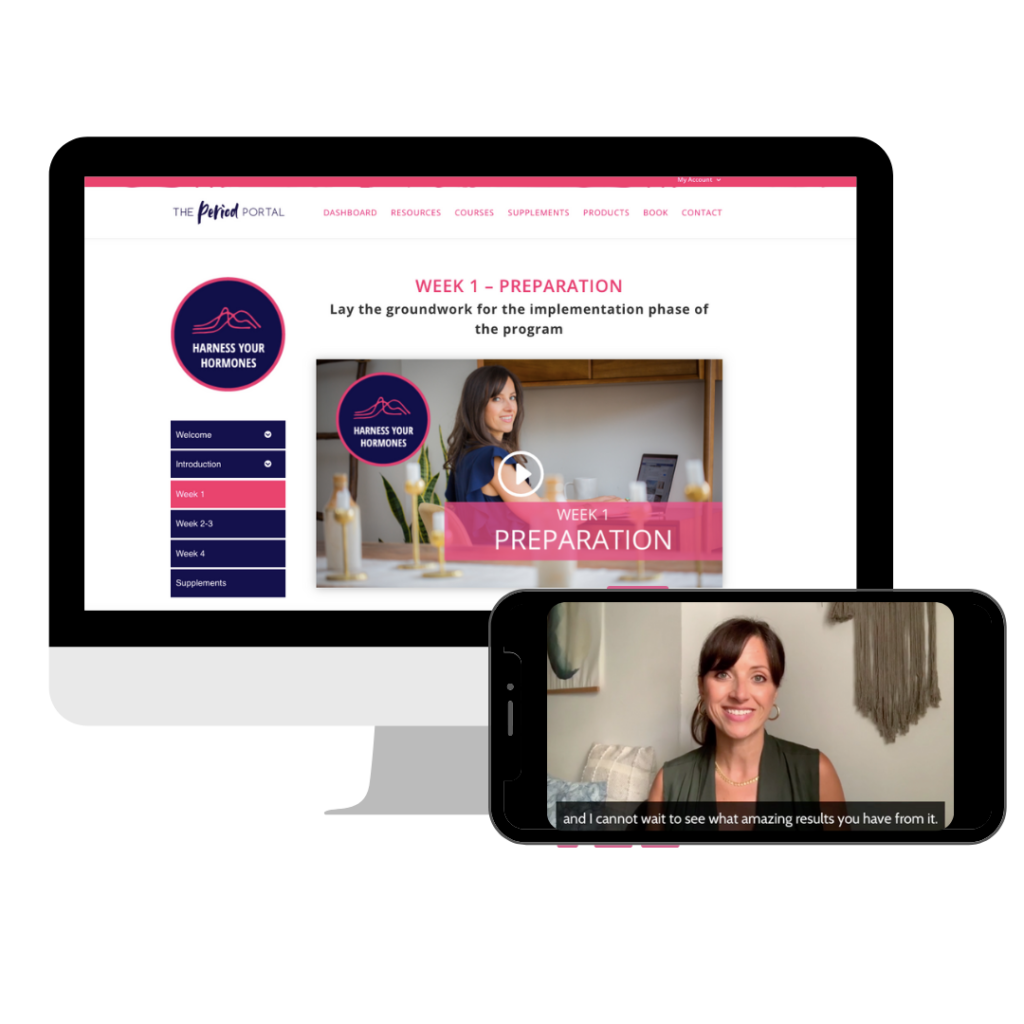 weekly video lessons with nicole
Each week you'll get a fun and informative video lesson where Nicole breaks down exactly what you're going to do in the program that week.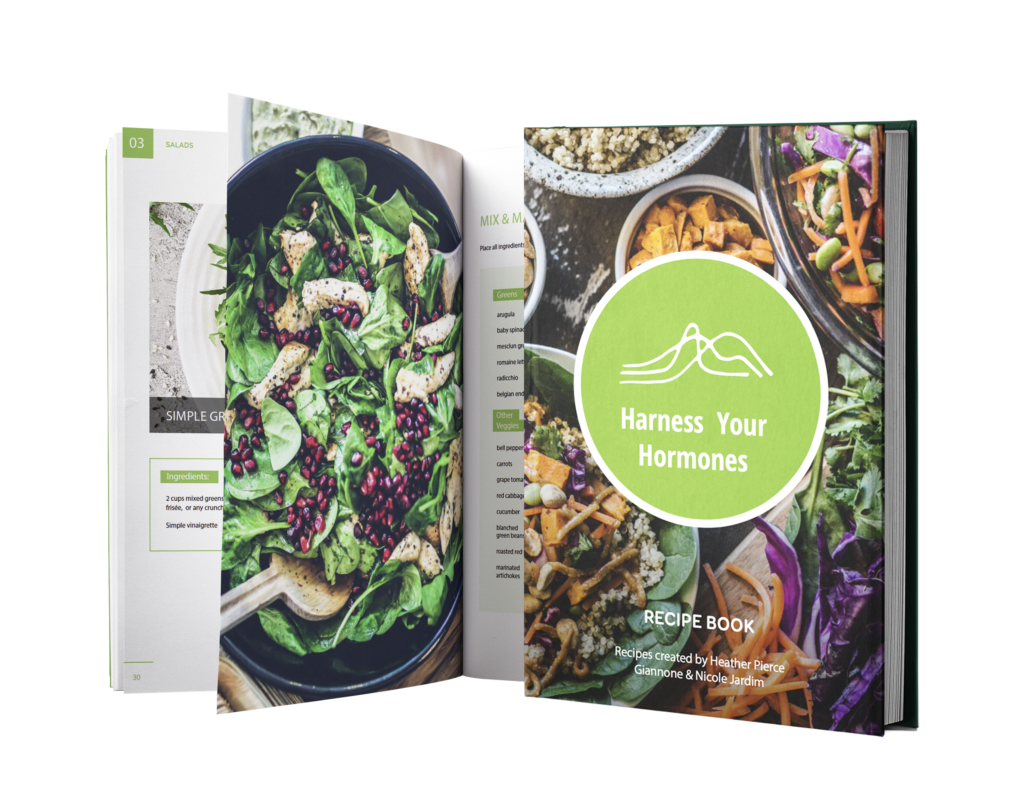 harness your hormones recipe book
With over 60 hormone-friendly recipes (with pictures) that your tastebuds will approve of and your period will love!
All recipes can be easily modified for vegetarian and vegan diets.
BONUS! Your family will love these recipes too!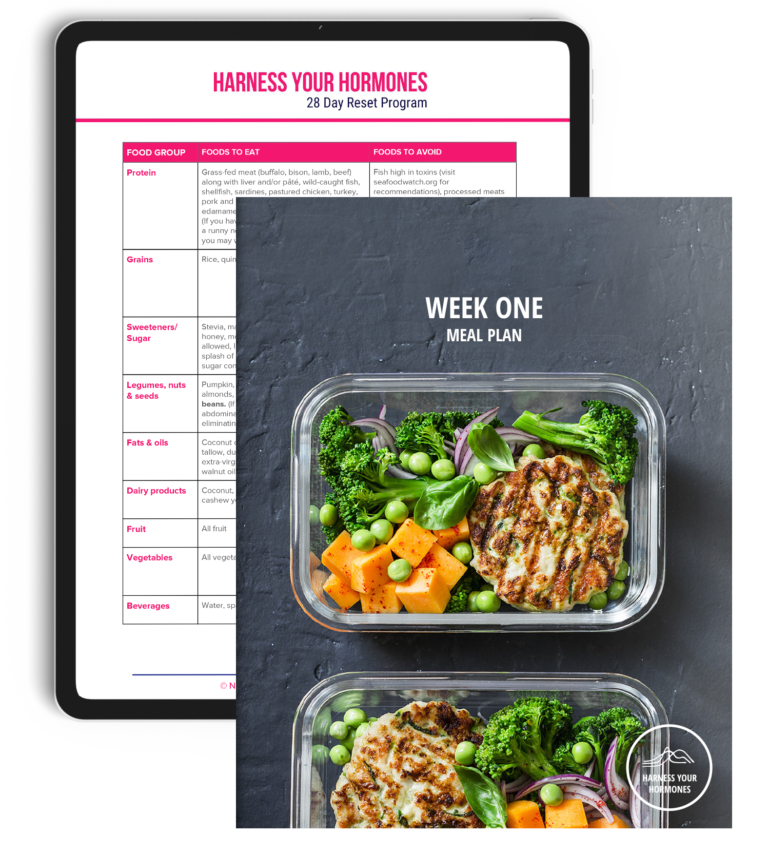 A clear and easy preparation meal plan to help you phase out foods that are problematic for your hormones, and phase in the best period & hormone supportive foods with ultimate ease!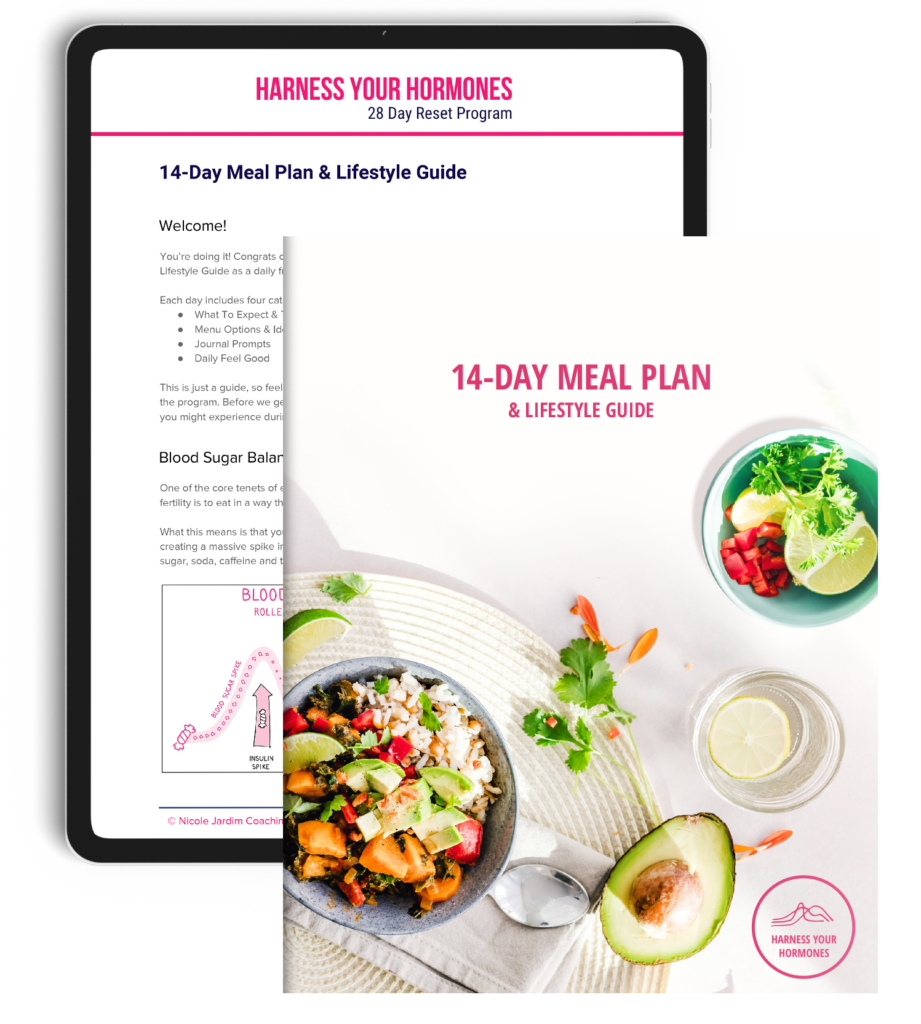 14-Day Meal Plan & Lifestyle Guide
This includes the meal plan with a daily guide broken down into four categories:
What To Expect & Tips
Menu Options & Ideas
Journal Prompts
Daily Feel Goods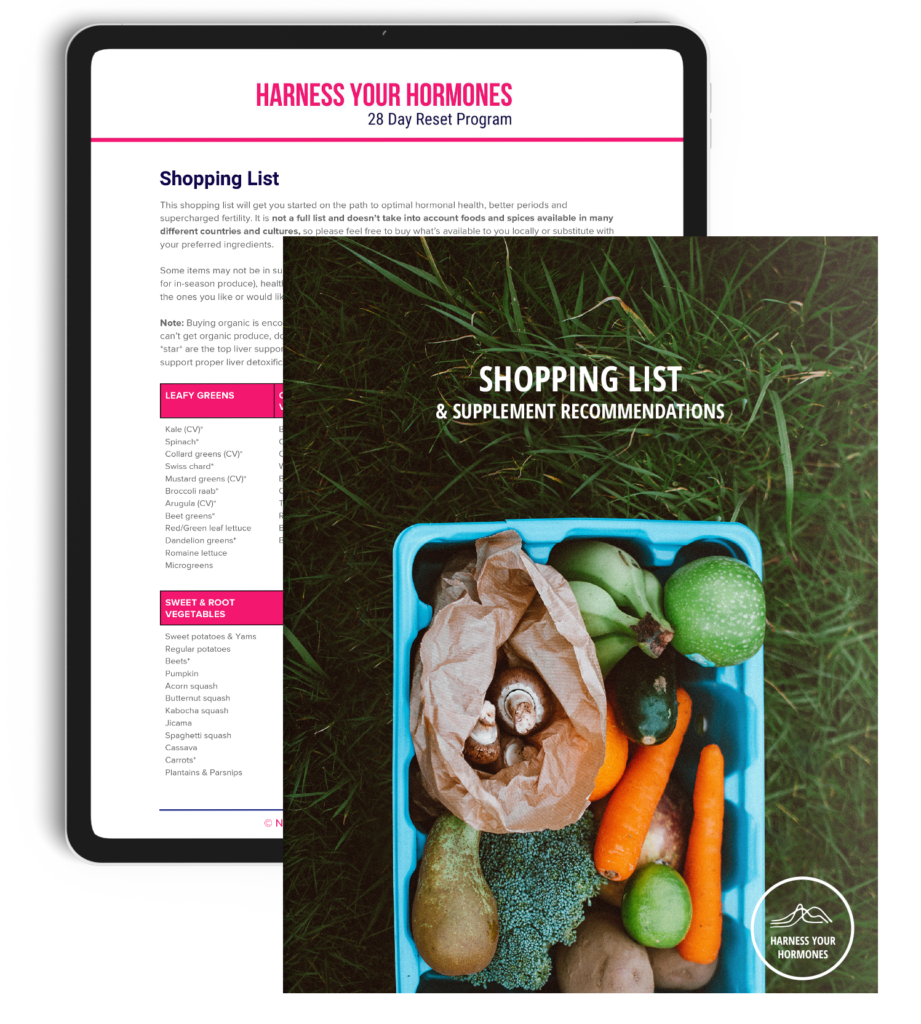 Shopping List & Supplement Recommendations
This shopping list will get you started on the path to optimal hormonal health, better periods and supercharged fertility.
It also includes program-specific supplements that will get your hormones working for you!
purchase today and get these ADDITIONAL bonuses...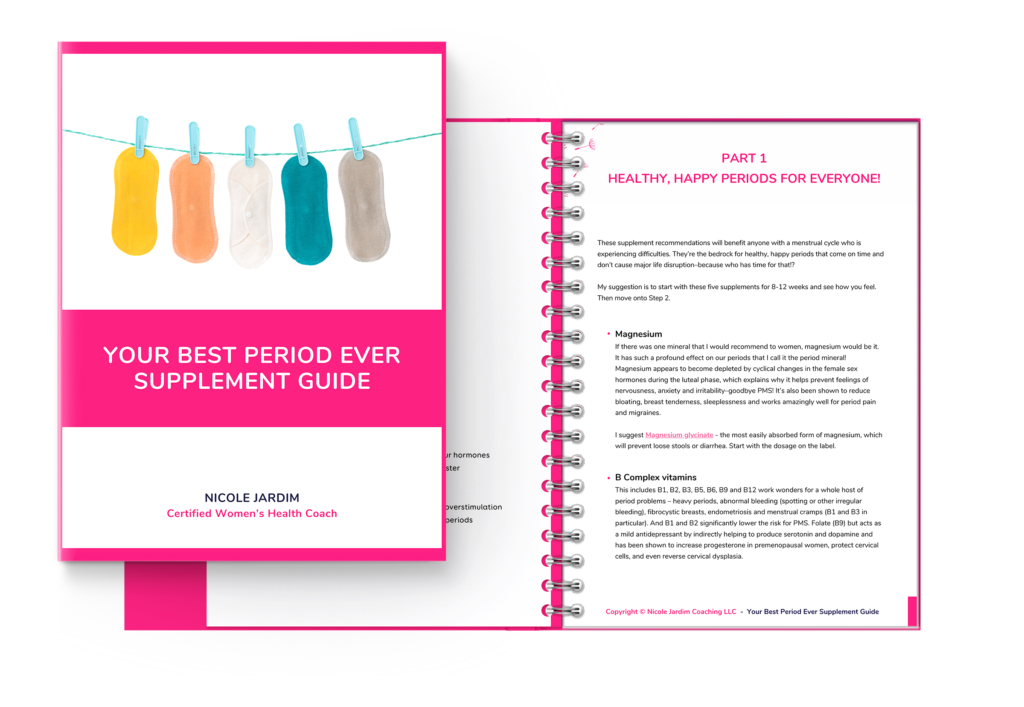 Your Best Period Ever Supplement Guide
Want to know the exact nutrients that improve your chances of having healthy, consistent ovulation and better periods? Then this is the guide for you. It includes supplements everyone should take to improve their period and specific recommendations for estrogen dominance, low progesterone and more!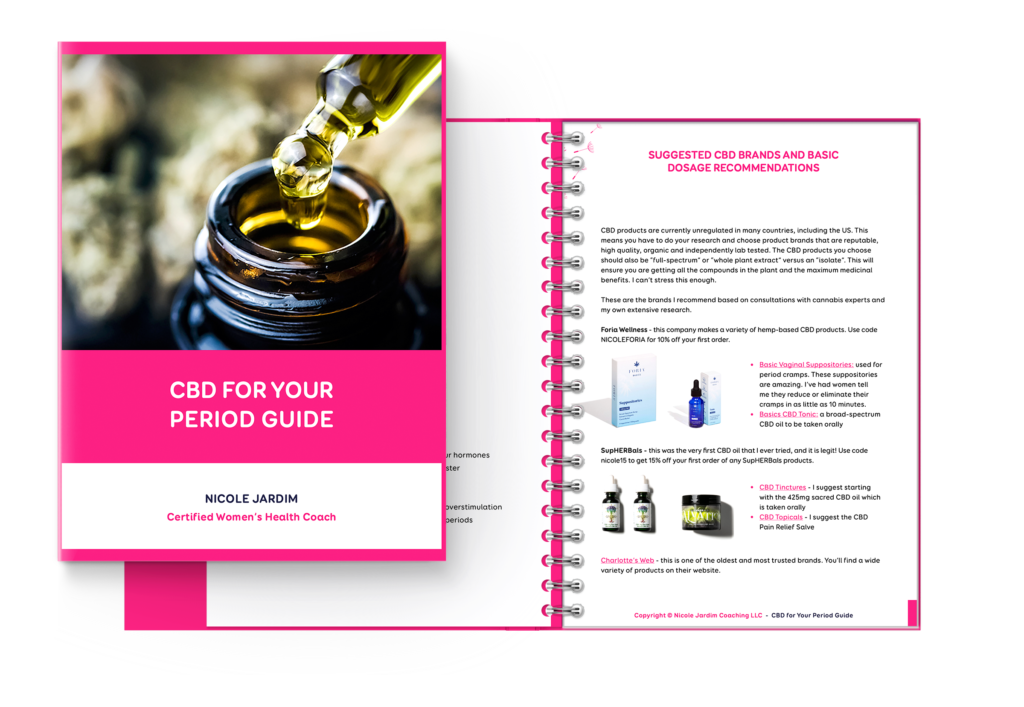 CBD for Your Period Guide
How does CBD work in the body? What's the best CBD to use for period pain, stress management, PMS and anxiety? How should you take it? Tinctures or topicals? What brands are good? All of these questions and more are answered in this comprehensive how-to guide!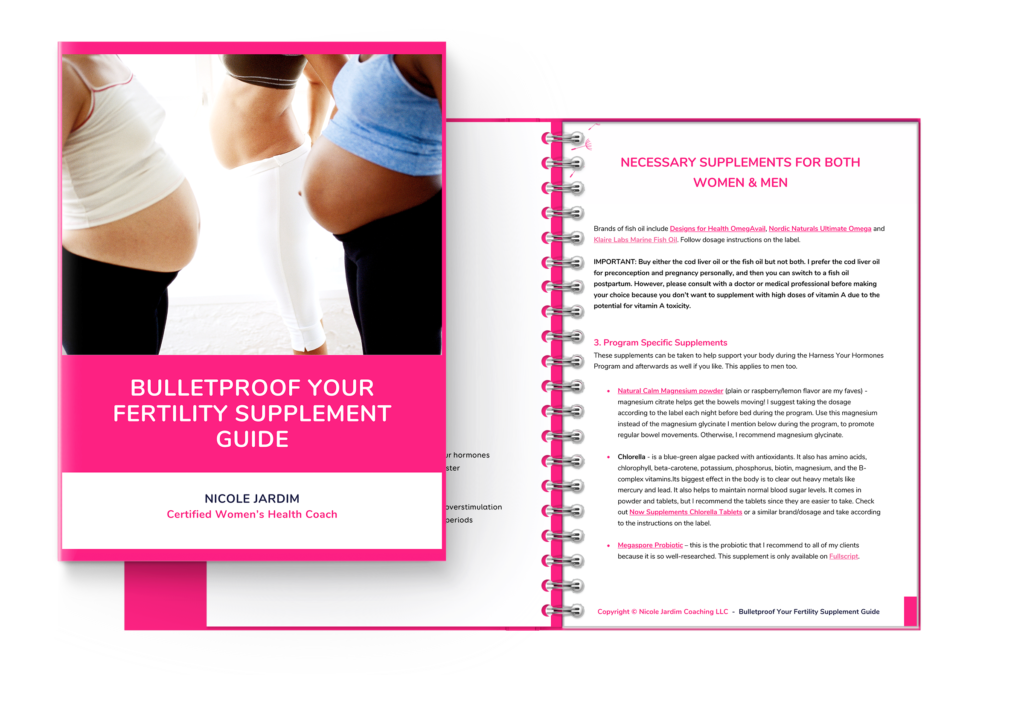 Bulletproof Your Fertility Supplement Guide
Whether you want to get pregnant in three months or three years, this is your go-to guide for science-based, effective supplements that have been shown to improve both female and male fertility. Not only do you get the recommendations, you also get the explanation about how these supplements work!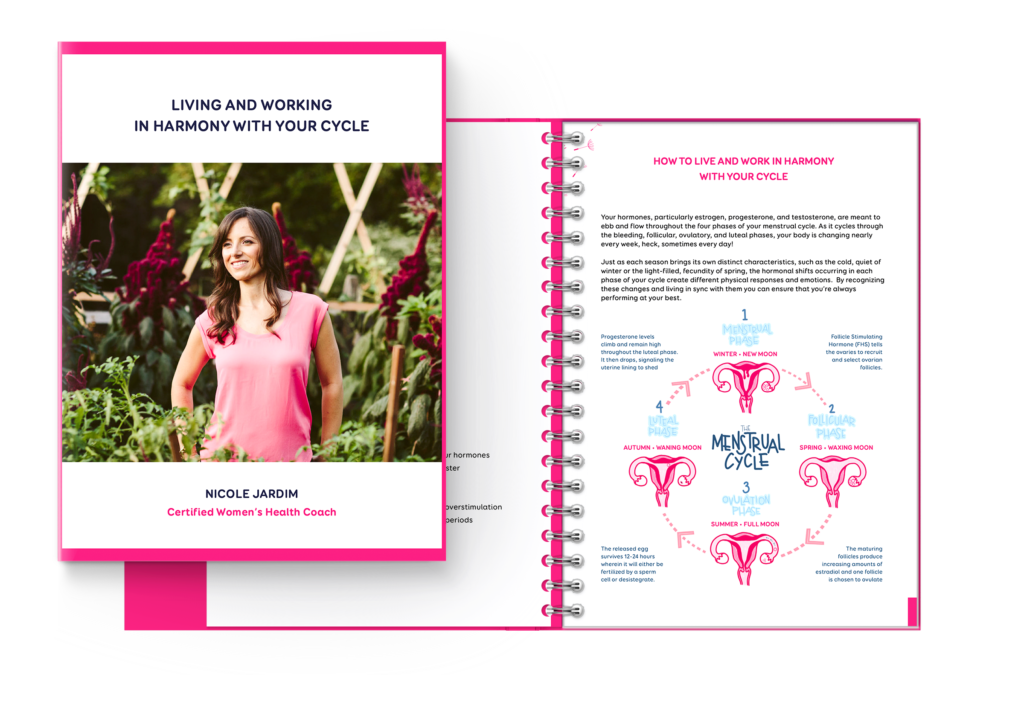 Living and Working in Harmony with Your Cycle Guide
Estrogen, progesterone, and testosterone are meant to ebb and flow throughout the four phases of your menstrual cycle. These hormonal changes impact your mood, appetite, sex drive and motivation. This guide breaks down what is happening in each phase of your cycle and how to live in accordance with these hormone changes!
Total value with bonuses $197!
LIMITED TIME OFFER
76% OFF!
ONE TIME ONLY PAYMENT FOR LIFETIME ACCESS BACKED BY OUR 28-DAY MONEY BACK GUARANTEE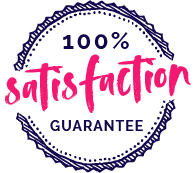 I want to make it as easy as possible for you to say "yes" to harnessing your hormones!
That's why I've got a 28-day guarantee.
Simply send an email within the first 28 days of your purchase date to support@nicolejardim.com with the email address you used to order the program, along with the reason you're not happy, and I'll process your refund.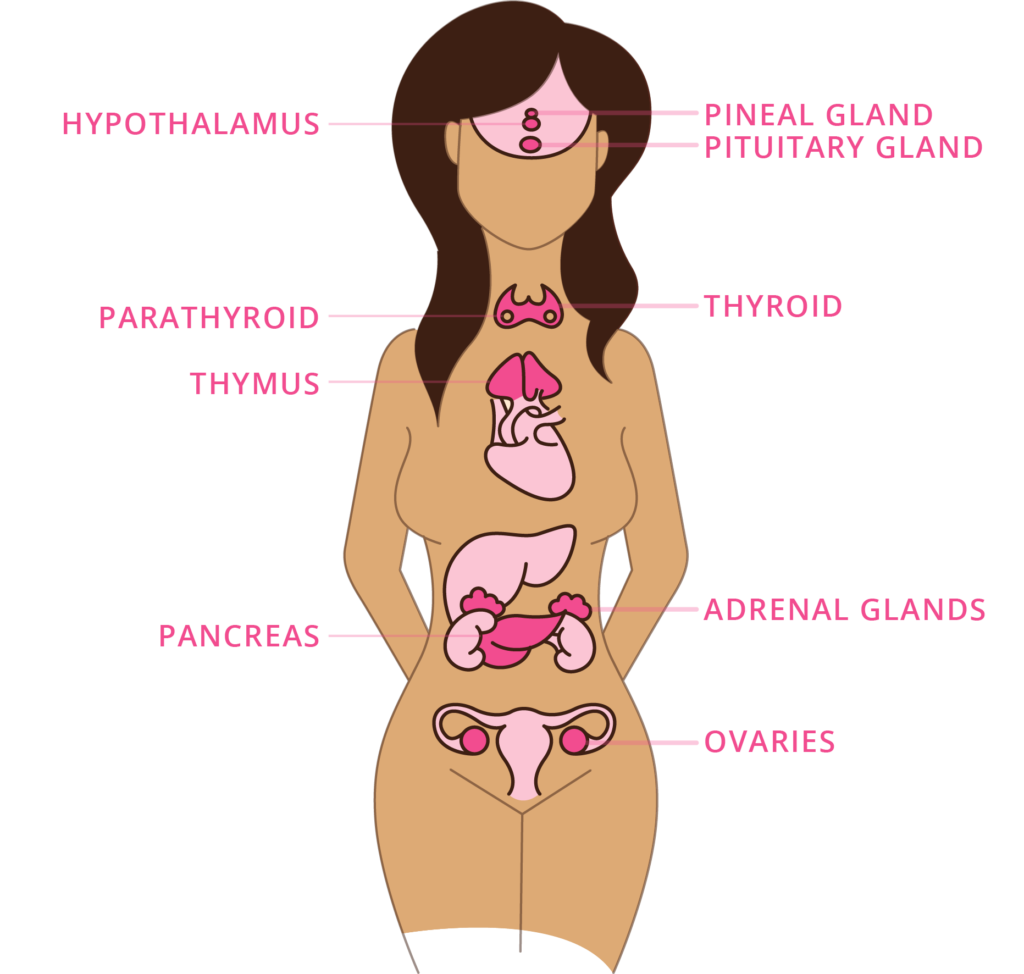 YOU DON'T HAVE TO SUFFER ​

Suffering related to your period is not normal, and it's high time we move away from this outdated belief.
Imbalanced hormones play a big role in menstrual and fertility problems. These symptoms don't happen to women who have balanced hormones — which is good news, because the causes of hormone imbalances are actually the solutions.
Your brain and endocrine glands talk to each other via hormones, and the Harness Your Hormones Program is designed to reopen those channels of communication and keep the conversation flowing.
This program gives you simple, straightforward and proven food, supplement and lifestyle hacks and strategies that will help you significantly improve your hormonal landscape and change your relationship with your period, STAT.
HORMONES & PERIODS 101: THE REAL CAUSE OF YOUR SYMPTOMS
TO TAKE BACK CONTROL
The Harness Your Hormones Program is for every woman and menstruator who's on a mission to find real solutions for their period problems.
The moodiness and mini-breakdowns.
The acne. Oh, the acne!
The periods that are on their own schedule, showing up whenever they please.
The PMS that wrecks you for weeks, only to be followed by days of spotting, heavy, painful periods and all the other symptoms you wish would disappear into a reality far, far away.
Who has time for any of that?!
I know you definitely don't!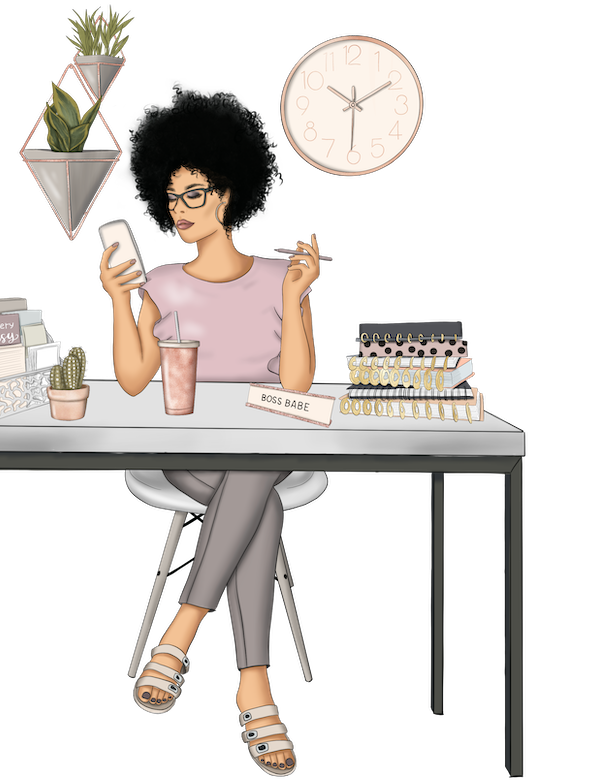 Still Got Questions? I've got answers...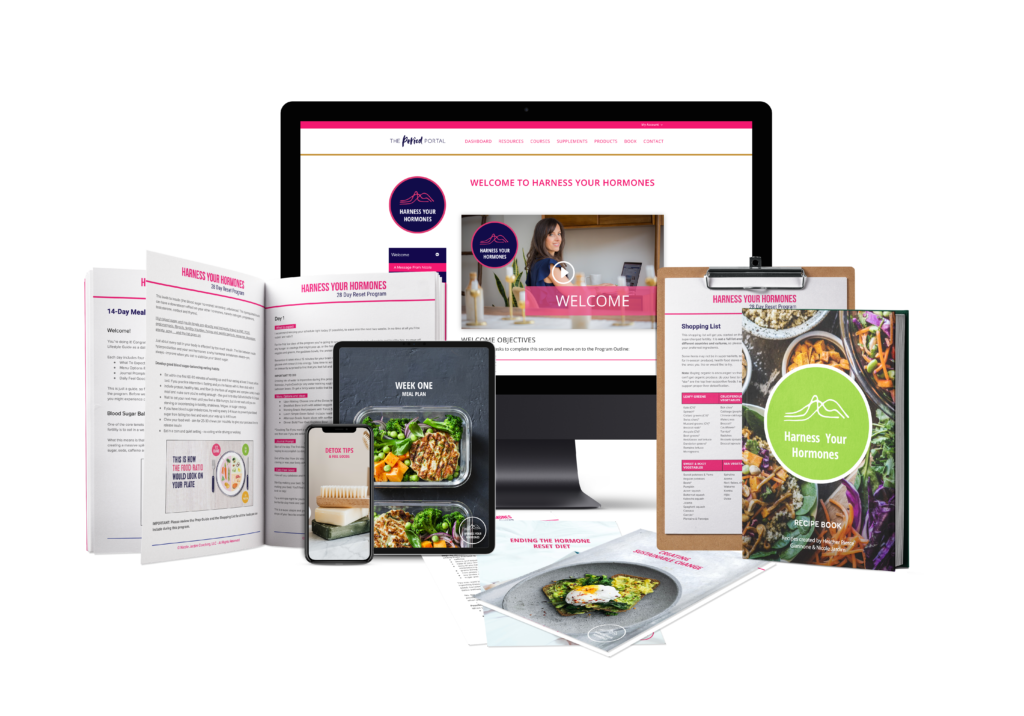 HARNESS YOUR HORMONES AND
put a stop to the monthly drama
There's no reason for you to continue with period frustration. With this easy and budget friendly way to get started, you can wave goodbye to your period problems and say, "hello gorgeous!" to a more restored, radiant you.
LIMITED TIME OFFER
76% OFF!
ONE TIME ONLY PAYMENT FOR LIFETIME ACCESS BACKED BY OUR 28-DAY MONEY BACK GUARANTEE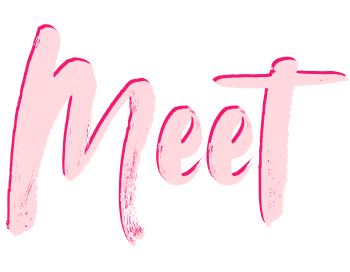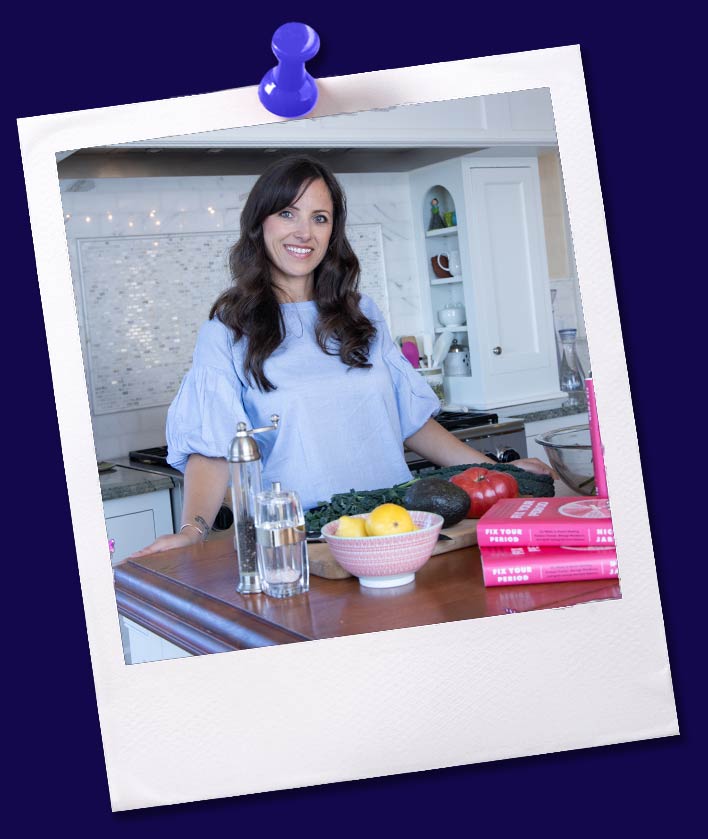 Nicole is a Certified Women's Health Coach, writer, speaker, mentor, and the creator of Fix Your Period, a series of programs that empower women and menstruators to reclaim their hormone health using a method that combines evidence-based information with simplicity and sass.
Her work has impacted the lives of tens of thousands of people around the world, and as a result, she's earned the nicknames "Period Girl" and "Professional Period Fixer".
She has been called on as a women's health expert for sites such as the Guardian, Well+Good, MindBodyGreen, and Healthline. Nicole is also the host of The Period Party, a top-rated podcast on iTunes.
She recently released the book Fix Your Period: 6 Weeks to Banish Bloating, Conquer Cramps, Manage Moodiness, and Ignite Lasting Hormone Balance.